Our Story & What Keeps Us Excited!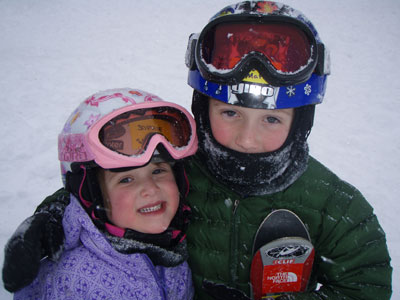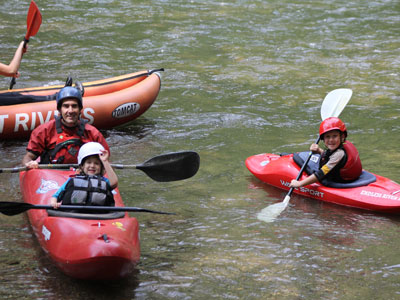 Sophie, Landon and Steven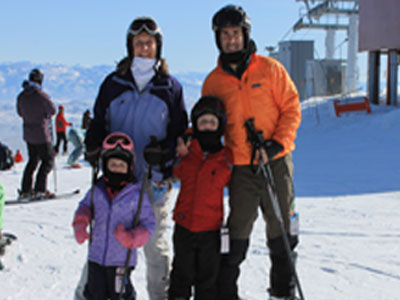 Sue, Steven, Sophie and Landon
At Adventurous Fast Rivers, outdoor adventure is our passion and sharing it is our dream. We, Steven & Sue Matz, had a very unique opportunity to get out of "Corporate America" and live in the great outdoors of Western North Carolina! Steven (a seasoned paddler) got an email about a rafting business for sale, called Sue at work and we were here the next weekend checking out Fast Rivers. We knew from the moment we pulled in that this was the life for us — No matter what it took! We went back to the Atlanta area, put our house up for sale, explained that we were not crazy to our family, friends and neighbors, stocked up on canned goods (just in case) and happily turned in our business suits and dresses for cut-off shorts and T-shirts and off we went to begin our new life on the Nantahala River!
You see, we met at a summer camp in Hendersonville, North Carolina and the love for this area never left us. So, 24 years later, we find ourselves celebrating our 16th season on the river with our 2 lovable dogs and 2 awesome kids (or some say our greeting committee) and over a dozen seasonal employees who all share our passion and love for the outdoors.
We are personally here at our outpost every day to show you that we truly appreciate your business and are committed to providing you with a positive whitewater experience. Our competitive edge is our position on customer service allowing us to continue to build a business that is based on long-standing relationships with satisfied customers. We work hard to ensure your satisfaction and value the trust you put in our company.
We are gearing up for another amazing season and are very excited to see all of our friends again. And as always, it is so great to meet many, many new ones. The people are truly what keeps us going and makes our business worthwhile! We absolutely love it & you!
Every year, we try to tweak the areas that will aid in our continued growth! This year…we are happy to say that we bought our own property and built a brand new outpost with showers and all! We have always leased the property on the river; So, in October, we purchased a whole lotta dirt and spent the winter creating a new dream to share with all of you! We are now located at the put-in (just a minute's drive to your whitewater fun!). We are excited that there is a food truck (Loafin' Around Cafe) on the new outpost property offering very yummy food (please see menu under FAQ). I guess adding some new boats and funyaks to the fleet will pale in comparison to our new outpost, but we are still proud to say that we have continued to upgrade our fleet. We have also replaced some life jackets, just to keep things fresh!
Our family (Landon, Sophie, Sport & Flower) are doing wonderful. We are down to 2 dogs to greet you! However, we are actively waiting for another to find us ~ we will always welcome another Good River Dog. As for the non-furry kiddies, we are so enjoying our time with them; watching them grow & learn and challenge us daily. They both enjoy playing soccer and love snow skiing which is fun for us all. Crazy enough, Landon is a middle-schooler and Sophie is not far behind. They will be working at Fast Rivers some this summer and are super excited to help with the family business. It is also a thrill having our customers watch them grow from season to season reminding us to cherish every moment because they go by so fast. So thank you again for all of the reminders because we cannot be told enough to just live in the moment!
As always, helping you & your group to have fun is what we are here for. So please contact us with any Nantahala Rafting questions or suggestions. Customer feedback is extremely important to us & greatly appreciated. It is what helps us to continue to be successful in providing you with the best overall experience!
Again, thanks to everyone who continues to make our business what it is today. We truly appreciate each and every one of you. We look forward to seeing you on the river with us over and over again! And remember, we believe the most important trip down the river is yours…